IST  is located in the center of Lisbon in an area with excellent access to public transportation:
Getting to Lisbon
Airport
From Lisbon Airport (Portela) to IST Alameda campus is a 10 minutes' drive. Lisbon Airport is very close to the city centre – it is located 7km from the centre – and there are different alternatives to get there, namely by Metro to Aerobus, city bus (Carris) or by taxi. If you choose the metro to go from the airport straight to IST, you have the red line (linha vermelha) and you should exit in Alameda or Saldanha station. It takes around 15 to 20 minutes and costs €1,25 plus €0,50 for the "viva viagem" rechargeable card.

Bus
Lisbon is served by several buses from other nacional locations. Some of the major long distance express service operators are:

Train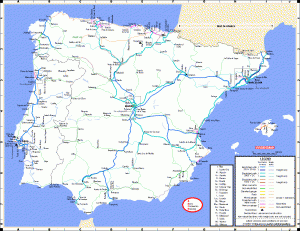 The national rail network In Portugal is operated by CP – Caminhos de Ferro Portugueses.  Click on the thumbnail to see a full size map of the Rail network.
The complete timetable for Intercity trains in Portugal can be viewed and downloaded here. Note that some routes and cities also have Inter-regional and regional (slower) trains. Visit the CP website for those times.
Alfa Pendular high-speed tilting trains operate many of the services between Lisbon and Porto.
They also run twice a day between Lisbon and the Algarve. Fares are slightly higher than on the 'Inter-City' trains, which run also between Lisbon and Porto (with more stops) and to other destinations around the country.
Transports within Lisbon
The whole city of Lisbon is provided with a decent urban transport network with convenient timetables.
Taxi
Taxis allow you to arrive at IST from any point in the city, but of course the tariff also increases according to the distance, traffic and day time. An airport-IST trip is around 10 euros. It is possible to buy "taxi vouchers" at the airport from €20 to €25.

Bus
The following buses stop near IST Alameda campus:
Av. Rovisco Pais/Av. António José de Almeida (side entrances): 720, 742, 767.
Alameda: 708 (bike bus), 717, 718, 720, 735, 767; night bus: 206, 208.
Saldanha/Arco do Cego: 713, 716, 720, 726, 727, 736, 738, 742, 744, 767, 783; night bus: 207.
For further information visit the Carris bus company website.
Metro (Underground)
Metro is one the fastest and most convenient way of moving around the city. These stations are near IST Alameda campus:
Saldanha metro station: Yellow Line (Linha amarela) and Red Line (Linha vermelha)
Alameda metro station: Green Line (Linha verde) and Red Line (Linha vermelha)
For further information visit the Lisbon Metro website.